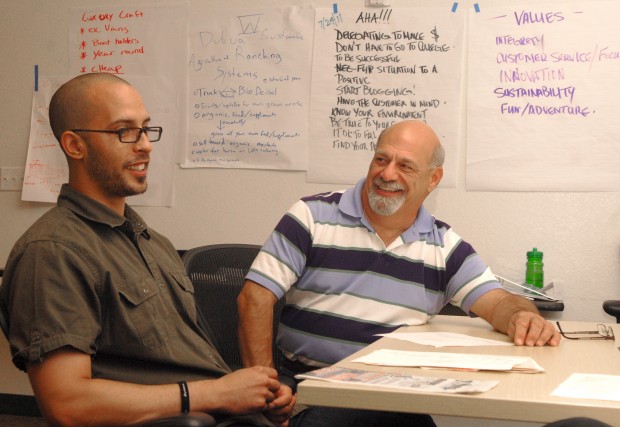 Inside a small coffee shop north of downtown Flagstaff, Trish Rensink and Jamey Hasapis are leading a conversation designed to help the business of a self-described "genius" grow.
The two-hour discussion with Nicholas Allen touches on a variety of topics, from refining a mission statement for a one-man shop to determining where the young, tech-savvy artist wants to be in a few years.
The morning might seem to the casual observer to be largely an intellectual exercise, but the stakes are huge.
Seven out of 10 new small businesses survive to their second anniversary, but only about half survive after five years, according to the U.S. Small Business Administration.
Rensink and Hasapis say the mission of their company, the BelleWether Group, to help as many clients focus their direction and resources on best -serving their customers.
Their meeting with Allen started with a concrete list of the services he currently provides under the umbrella of his business, Sublime D. Zine.
He hands them a "scribble list" with various technical and creative services he has been providing to various Flagstaff clients. The neatly typed single sheet of paper lists web design and development, graphic design, search engine marketing and optimization and blog design/creation.
"Here are things I do and here are the things I don't do," he says.
Read more: http://azdailysun.com/business/local/finding-the-right-focus/article_f81f41d7-d315-5721-b154-b360b8019178.html#ixzz1UZjDNE64